How many of you have ever walked completely into the unknown? Not knowing what your next step is, or where you are supposed to go? For some of you, you may be in that unknown right now. You may not know what University you are going to attend, or what career you want. For some of you, you may be starting a new job, or you may be looking for a job. The unknown is scary no matter what the situation is, but it can also be exciting! Below is my new adventure into my unknown…
Just like some of you, this past week I started a new job! What is this new job you may ask? I accepted the position as Residence Assistant on my floor! This was something that I have wanted for a long time, and something that I am confident that I have the ability to do.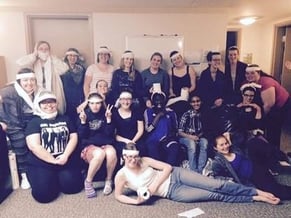 Once this started to sink in, it became apparent to me that I was on a new journey. This was a journey completely into the unknown. This is both exciting and nerve wracking all at the same time. I am so excited to see what God has planned in my life, and for my life, but I am fearful of not knowing what the outcome will be. Throughout this whole process God has placed this verse on my heart, "Have I not commanded you? Be strong and courageous. Do not be frightened, and do not be dismayed, for the LORD your God is with you wherever you go" ~ Joshua 1:9. I know that it is God that hold my future, he is the one that is in control of my next year and of my journey. I am excited to see how I will be used through floor meetings and other residence events to further his kingdom!
God knows our future and He knows our unknown. So if you are in the same place that I am and you are in the unknown, know that there is peace in God, in His love, and His all-knowing ability.
"For I know the plans I have for you declares the Lord, plans to prosper you and not to harm you, plans to give you a hope and a future" ~Jeremiah 29:11