There are many things that rhyme with 'Mo'. Go, so, no … But you know what doesn't rhyme with 'Mo'? Do. Why? No idea. But what I do know is that 'Mo' is short and sweet – just like me!! I am a student ambassador in my second year at Ambrose! I'm taking a Bachelor of Theology: Church Ministry degree with music and intercultural studies minors. My plan is to go into worship ministry and develop worship teams and leaders all over the world! Here's some other fun facts you might like to know:
7 Things to Know About Mo
1. My favourite color is pink.
I LOVE PINK. The first thing everyone says when they see my room is "WOW, that's a lot of pink!" Everything from my bed, to my clothes hamper, to my stapler is – you guessed it- pink! I am literally 100% more likely to buy something and pay more for it if it's pink.
2. Minnie Mouse is my spirit-animal
Maybe it's because I love pink, but Minnie Mouse is my go-to favourite cartoon character. Like some people are obsessed with Captain America (or Bucky), I love all things Minnie Mouse! I have two sets of ears (one of which lights up!), a stuffed animal the size of a small child, and an adult size onesie complete with ears and bow, to name just a few items of my collection. I recently had my 20th birthday, and my mom sent me Minnie Mouse bubbles, lip gloss, and Pez. No shame.
3. I'm from the east coast, eh?!
I am Nova Scotian, born and raised! My home town, Oxford, is the wild blueberry capital of Canada, and we have a giant blueberry to prove it. Moving to Calgary was a big change for me, but I haven't regretted a single second of it! Read more about my experience by clicking here.
4. I'm a nerd.
Not the comic book collecting, hack into NASA nerd. The top-of-the-class, know all the answers nerd. (Disclaimer: I do NOT know all the answers.) I wouldn't say that I'm 'smart', because I believe everyone is 'smart' in some subject. But I am a hard-worker who excels at academics. And I can solve a Rubik's Cube. If you need help with your homework, give me a call!
5. I love music!
Don't ask me my favourite song or artist, because there's too many to choose! (Lately I've been listening to the acapella group 'Home Free' NON-STOP. Highly recommend checking them out!) My IPod ranges from TobyMac to Owl City to Broadway to Veggie Tales (the Hairbrush Song is MY LIFE).
6. I am coffee-intolerant.
Being a student, this one SUCKS. I actually love coffee (or is it coffee flavored sugar? Hmmm…) but every time I drink a smooth vanilla latte or caramel macchiato I get CRAZY headaches! I have come to accept the fact that coffee and me do not get along no matter how many times I try to befriend it. On the other hand, Peppermint tea and I are BFF's.
7. Tim Neufeld sang 'Happy birthday' to me!
This is one of the facts I like to use when I want to sound cool. Tim Neufeld, as in Tim Neufeld and the Glory Boys, and lead in Starfield. I was at a youth event and my awesome youth pastor, who knew I was a huge fan, talked him into singing 'Happy Birthday' to me. (My birthday was the next day.) He actually ended up singing to two of us, because he confused me with another girl whose birthday was that day. The photo is of me and my sister with Tim, as well as a great photo bomb by the Ambrose booth!!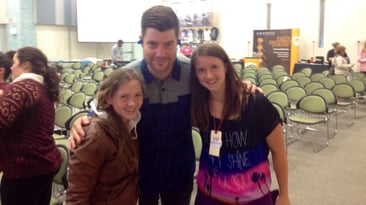 Now you know all about Mo!
There's many more things I could tell you about myself, but you've procrastinated long enough. And as they say, always leave them wanting more!
Peace and blessings,
Mo J