On Wednesday, January 25th, 2017, people posted, snapped, and shared their way to raising over $6.5 million to support mental health in Canada. Bell 'Let's Talk Day' is becoming more and more popular each year, and people seem to be working together to end the stigma around mental illness. But here's the thing:
DONATING MILLIONS OF DOLLARS ISN'T GOING TO BE ENOUGH.
Mental illness isn't going to disappear overnight. Someone somewhere still struggled to find the motivation to get out of bed Thursday morning. Maybe that person was you. The fact is, people are still scared to ask for help and admit that they have a mental illness. But what if they had broken their leg? Or caught a stomach flu? Would they be afraid to go the doctor?
MENTAL HEALTH IS REAL HEALTH.
I think the difference between physical and mental health issues is that a mental illness is hidden. People can't always tell what you're feeling inside. And maybe that makes you feel like they won't understand, or believe, that what is happening is really happening. And if they can't tell that something is wrong, then maybe there isn't. Maybe you're just making the whole thing up...
YOUR ILLNESS IS NOT IMAGINARY.
University students especially seem to struggle with mental health problems. Often, a student has to balance classes, homework, extracurricular activities, relationships, as well as a part-time job(s). All that juggling leads to less sleep and more stress. If a student doesn't manage their time well and make room for self care, they'll find themselves at the bottom of a deep dark hole pretty quick. That's why so many universities, including Ambrose, are beginning to promote self-care and educate students about the prevention of mental illness.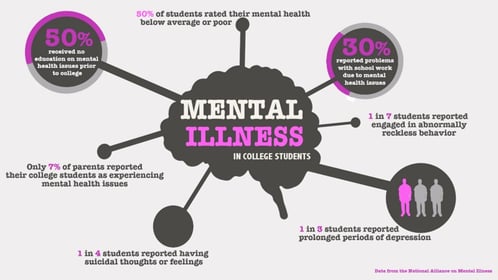 STUDENTS NEED SELF-CARE.
This past November, the VP of Social Justice and Mental Health, Alexandria Lysholm created a contest encouraging students to share their self-care practices in exchange for a chance to win a number of prizes, including a grand prize of a puppy play date! Ambrose has also provided students with a number of resources to use if they are in distress and need someone to reach out to both within the faculty and Calgary services. Ambrose students can even access on-campus counselors for a reduced rate (only $30 a session!). Ambrose takes the health of its students seriously and will help every student find the support they need to thrive under the pressures of university.
Learn more about Bell 'Let's Talk Day': http://letstalk.bell.ca/en/
Check out the Ambrose Social Justice and Mental Health Facebook page: https://www.facebook.com/ambrosesocialjustice/
Images taken from:
http://www.bloggazwithattitude.com
https://medium.com